Thinking Rising Interest Rates Will Lower Home Prices? Think Again!
Freddie Mac released a report recently you can find here: Nowhere to go but up? How increasing mortgage rates could affect housing. The findings addressed the impact the projected rise in mortgage rates could have on the housing market in the near future.
Every month our team leads a market update for Realtors in our brokerage and the surrounding market. One of the concerns we hear almost monthly is whether increasing interest rates will lead to falling house values.
Fear not, home prices are affected by supply and demand. Higher interest rates do dampen demand (i.e. buyers don't want to pay that much), however, the report pointed out how supply is also affected by rising interest rates:
"For current homeowners, the decision to buy a new home is typically linked to their decision to sell their current home… Because of this link, the financing costs of the existing mortgage are part of the homeowner's decision of whether and when to move.

Once financing costs for a new mortgage rise above the rate borrowers are paying for their current mortgage, borrowers would have to give up below-market financing to sell their home.

Instead, they may choose to delay both the sale of their existing home and the purchase of a new home to maintain the advantageous financing."
Therefore Freddie Mac concluded home values are not adversely impacted by rising interest rates.
"While there is a drop in the demand for homes, there is an associated drop in the supply of homes from the link between the selling and buying decisions. As both supply and demand move together in this way they have offsetting effects on price—lower demand decreases price and lower supply increases price.
The National House Price Index, an indicator many experts use in predicting shifts in the market is…
"…unresponsive to movements in interest rates. In the current housing market, the driving force behind the increase in prices is a low supply of both new and existing homes combined with historically low rates. As mortgage rates increase, the demand for home purchases will likely remain strong relative to the constrained supply and continue to put upward pressure on home prices."
Check out what happened to housing prices the last 6 times interest rates rose more than 1%.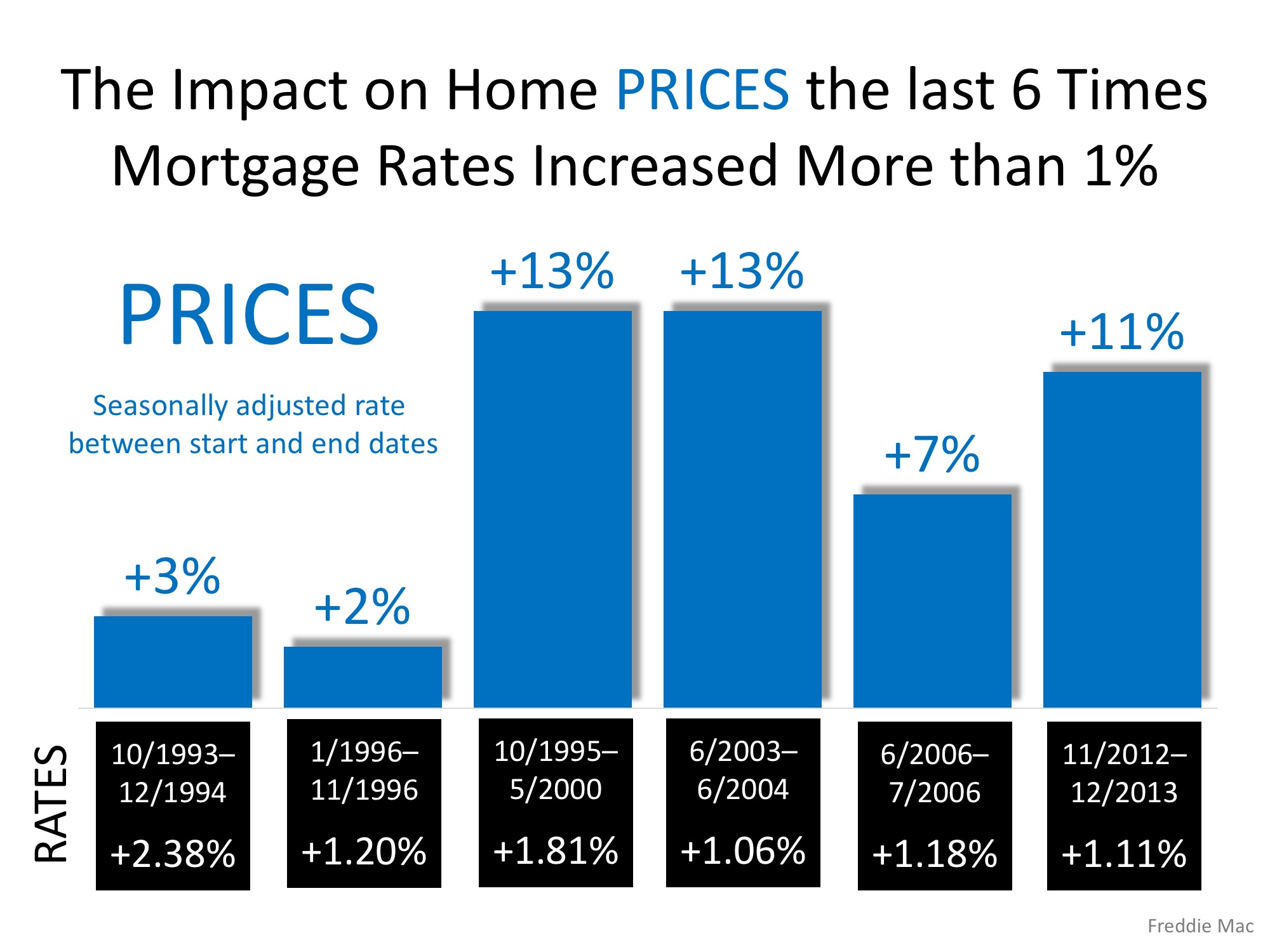 Graph Credit Keeping Current Matters, Inc.
So What?
Don't hold off on purchasing a new home simply because you think the increasing rates will cause home prices to drop. We may see a reduction in the aggressive appreciation rates we are seeing in many markets, but the likelihood of seeing home prices fall is slim to none.
---
For more information or to schedule a time to speak with us about any real estate questions, please contact us at 480.779.7761
Need to sell your home? Click here for a complimentary valuation.
Sick of seeing homes online that are already under contract? - Search only active properties on the MLS here
See our Featured Listings Here - Wells Realty Group Listings (these are actually our listings - we'd love to schedule a showing anytime)
Wells Realty Group sells a home every 3 days, that means experience and expertise working on your side. Click here to see how we get it done.
If you have a question you would like us to write about, please shoot us an email to [email protected] with the subject line - Blog Question