Birthday Hacks In Gilbert Arizona
My birthday is coming up in a couple months, and I always love finding free stuff each year. I have found quite a few that are, a bit underwhelming. A few years ago, I discovered three of the best birthday hacks in Gilbert, and they are all within ten to fifteen minutes of each other. Going to them each year has grown to be called by me and my family, The Birthday Trifecta.
Joe's Farm Grill is located on Higley and Ray. It can be seen from far away because of the tall, evergreen like trees planted nearby. Go ahead and get in line and grab a menu, be sure to have your Driver's license they are going to ask for it. They will give you $10 worth of food. I always get the BBBB Burger because I am in love with the way their BBQ Sauce combines with the flavor of the Blue Cheese. If that's not your thing pick something else, keeping in mind the $10 birthday credit. Take it all to go and head off to the next stop.
Joe's Real BBQ is located on Gilbert Rd just North of Elliot, known to most as Downtown Gilbert. This place is different, but neat. It has a cafeteria-style feel. Jump in line and have your license ready again. You'll get $10 of birthday credit here too.
I try not to drink much soda but Joe's is the only place I have found that has Red Cream as a fountain drink, it's smooth and goes well with good BBQ. Be sure to tell the first person you come to, past the soda fountain that you want it to go. The loaded baker is my go to, you get an enormous baked potato piled with your choice of meat, cheese, butter, and sour cream. However, for the Trifecta I get the 3-meat sampler because of the sides. The mac'n'cheese is a must have. I just get a double of that. The Potatoes are also great! Pick what you want and get to the end to pay. You will pay a few extra dollars out of pocket for the three-sampler plate and a couple more if you get a soda. It's well worth it. Take your bag and off to get dessert.
This all works quite well if you leave the other parts of the meal in the car or with someone while you are ordering. Liberty Market is located just across the street from Joe's Real BBQ on the South West corner. It works a bit differently here, if you take it to go they only allow you a free dessert, but if you Dine-In they will give you the $10 off your meal. I have always taken the dessert option because my favorite place to sit and enjoy all this is under the water tower just behind Liberty Market.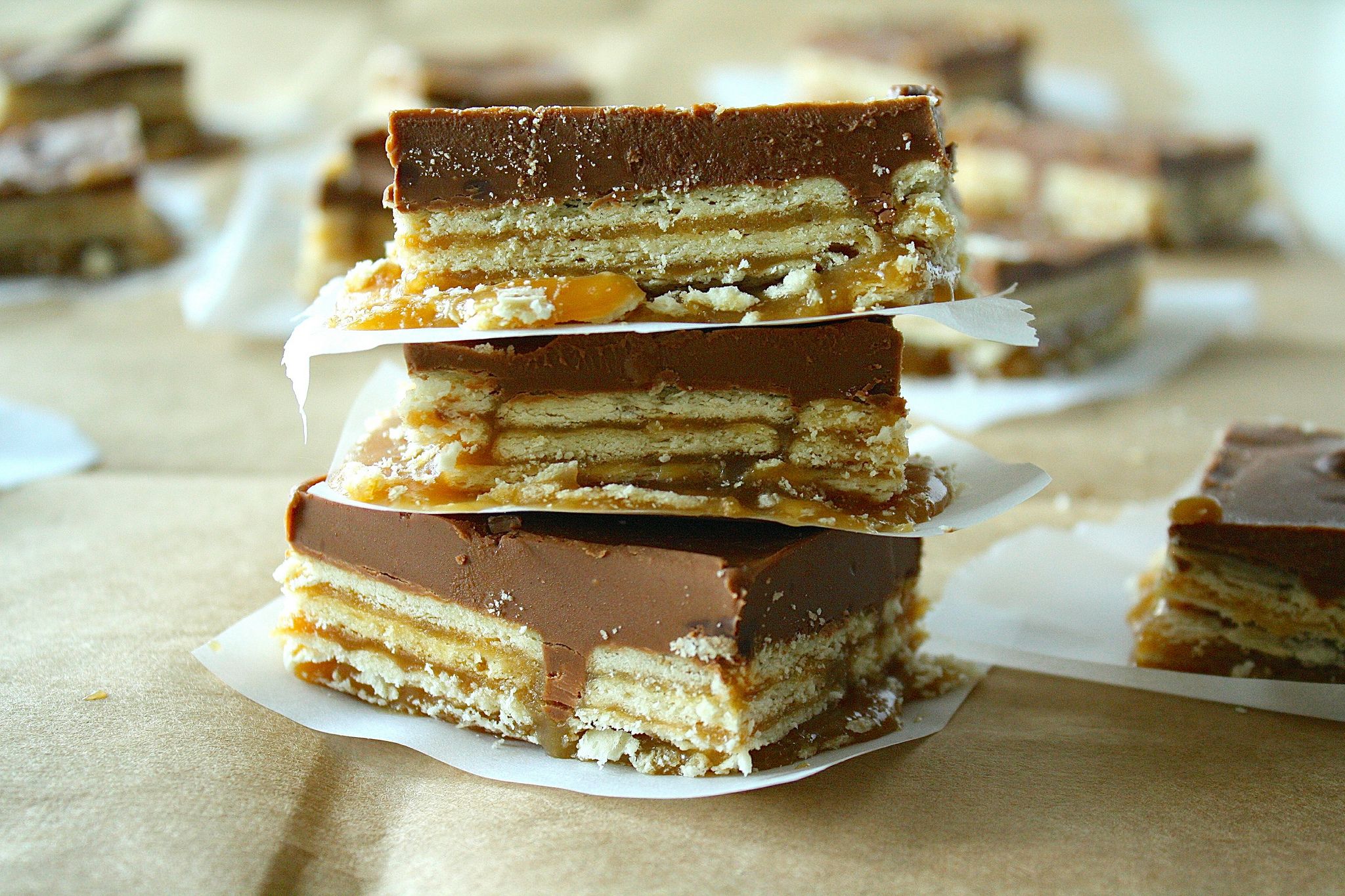 You will need to show your license one last time. The dessert I choose is life changing. The Salt River Bar. Did I mention it is life changing? Seriously it is. Not to mention, dangerously addicting. Three layers of buttery crackers, peanut butter chips, and brown sugar caramel topped with a fudgy layer of melted chocolate and sprinkled with sea salt. Pavlov's dogs have got nothing on me. However, if you are allergic to any of the ingredients, I feel bad for you. Ha-ha, only kidding a little bit. I can also highly recommend the Red Velvet or Carrot Cakes.
I have used these hacks since the year I found them and they never disappoint. I plan on bribing my kids into helping me use them more than once for myself and once more for my wife per year.