3 Things You Control When Selling Your Home
Selling your home is no small task, especially if you have never done it before. Be prepared that there are things you as the seller cannot control. By focusing on the top 3 things can control, you will overcome most difficulties that can arise in the selling process.
The top 3 things you can control when selling your home when done correctly, will overcome most of the difficulties that may arise during the sale. It is critical to hit these 3 things correctly and a good REALTOR can ensure you do them the right way, the first time.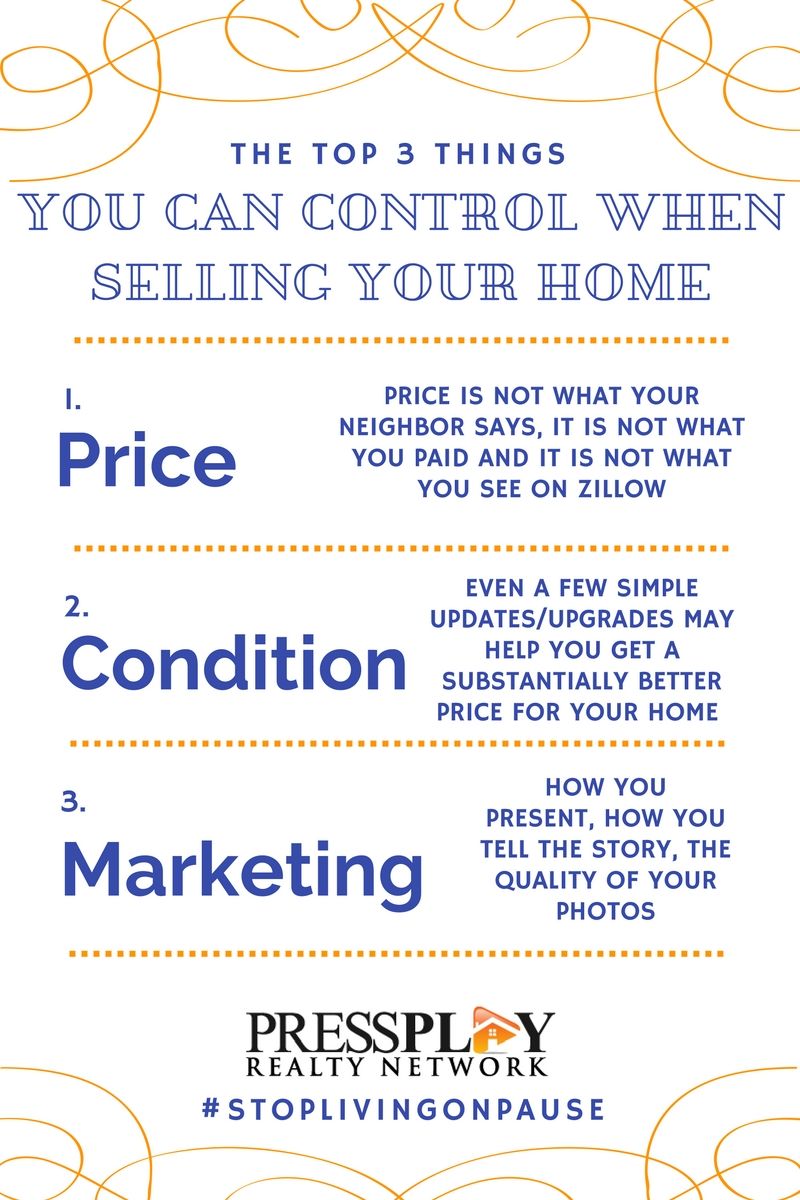 1. Price: It is critical to price your home at a competitive market value. People have different opinions about what their home is worth. Some people say, "my neighbor said that I should be able to sell my home for much more than that," or, "I need to get this amount from the sale in order to net what I need".
The reality is that your true home value isn't based on what your neighbor says or what you need to net. The true value is based on what a buyer is willing to pay, and what a seller is willing to accept in today's market, in addition to what an appraiser actually says. This is the "Market Value", and it is most accurately found by looking at comparable homes that have recently sold in that same area.
It is important to seek the help of a professional real estate agent to determine the correct price when selling your home. A REALTOR should pull the data and create a Comparative Market Analysis ("CMA") for you. The CMA will show you comparable homes in your area that have sold, are active on the market, and that are under contract. Knowing what similar homes are asking a buyer to pay, what buyers are agreeing to pay now for homes going under contract, and what homes sold for over the last 3-6 months, puts the decision of where to price your home in your hands because you have accurate and detailed information to do so without guessing or just going with your gut.
2. Condition: In some cases you have less control over the condition of your home that others, but in many cases you can control the general condition of your home. This is naturally effected by how well you have taken care of upkeep and regular maintenance as well as any upgrades or updating you may have done to the home.
If a home seems dirty, cluttered or has things that are clearly not in good condition, a buyer in today's market may either seek a significant discount in price or simply move on to the next property. If your home was built 20 years ago, you might have the original flooring, paint, cabinets or counter tops. They may have been the top of the line 20 years ago, but buyers today may see them as dated and something they would need to put additional money into if they purchase the home. Even a few simple updates/upgrades may help you get a substantially better price for your home, not to mention it will probably sell faster. Remember, what your home lacks in condition may need to be made up for in the list price.
3. Marketing: Who markets your home when you decide to put it up for sale? It could be you if you are selling it yourself. The right real estate team, like WELLS Realty Group provides an comprehensive, cutting edge, more than just a sign in your yard and posting it on the MLS that includes marketing through key real estate sites, social media, printed material, etc. Most sellersworry about the commissions they pay to hire a professional agent, but if you hire a professional with a proven track record not just someone you know does it as a hobby, it is WELL WORTH IT! The statistics show sales with a professional REALTOR marketing your home, sell for more money in less time.
So, the key point to be taken here is that you should interview multiple agents, ask a lot of questions, and then choose one who is experienced and dedicated to marketing your home. You do have control of this….don't hire a discount agent for a discounted commission who only puts a sign in your yard, posts it on MLS, and then hopes along with you that it sells, in the end you will get a discounted result.
Remember, selling your home is a BIG DEAL. Consider all of the different things outlined here and be proactive in the things you can control. Take care of your home and update here and there when you can. Don't be afraid to hire a professional to help you price it right and market it in the best ways possible. You do want to sell it as quickly as you can and for the best price possible right?
WELLS Realty Group of the PressPlay Realty Network at Keller Williams Realty East Valley is here to help. Contact us to set up a free listing consultation, or click here to get our Seller Guide.
Reach David Schnepf at (480) 457-9227 or (480) 428-3290. You can also email him at [email protected]